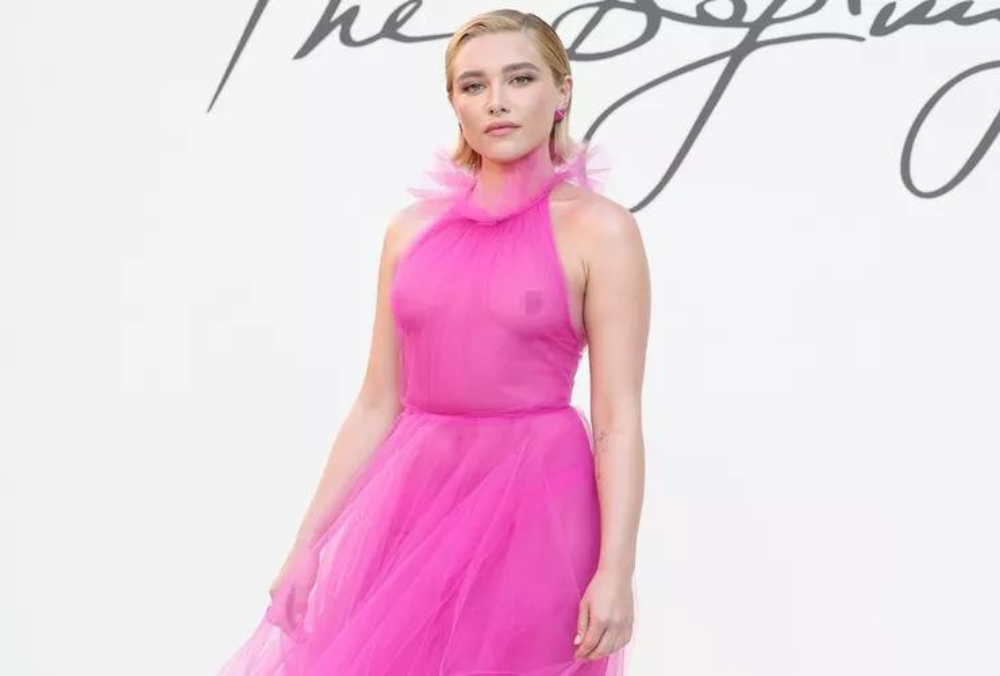 Florence Pugh Boldly Addresses the Controversy Surrounding Her "Valentino Pink Dress"
Florence Pugh is once again taking a stand and speaking out about the infamous pink sheer dress she wore last year in a candid interview featured in ELLE magazine's October issue. The actress, known for her role in "Oppenheimer," discussed her candid reaction to people scrutinizing her physical appearance with fellow actress Jodie Turner-Smith.
Pugh emphasized her openness and self-confidence when it comes to her body, stating, "I speak the way I do about my body because I'm not trying to hide the cellulite on my thigh or the squidge in between my arm and my boob: I would much rather lay it all out. I think the scariest thing for me are the instances where people have been upset that I've shown 'too much' of myself."
She went on to address the controversy surrounding her pink Valentino dress, which she wore in July 2022 during Valentino's haute couture show in Rome. Pugh recalled, "When everything went down with the Valentino pink dress a year ago, my nipples were on display through a piece of fabric, and it really wound people up. It's the freedom that people are scared of; the fact I'm comfortable and happy. Keeping women down by commenting on their bodies has worked for a very long time. I think we're in this swing now where lots of people are saying, 'I don't give a s—.'"
Pugh expressed her frustration with the double standards surrounding the female body, especially the sexualization of even the most innocuous aspects. She added, "Unfortunately, we've become so terrified of the human body that we can't even look at my two little cute nipples behind fabric in a way that isn't sexual. We need to keep reminding everybody that there is more than one reason for women's bodies [to exist]."
This isn't the first time Florence Pugh has addressed the dress controversy. In previous interviews and social media posts, she defended her choice to wear the dress, emphasizing her comfort and self-assuredness. Pugh's candidness and willingness to challenge societal norms have made her a prominent advocate for body positivity and self-acceptance.
In addition to her bold statements, Pugh revealed that she had been named Valentino's brand ambassador in April, highlighting her continued collaboration with the fashion house.
Florence Pugh's unapologetic approach to her own body and her willingness to speak out against body shaming make her an important figure in promoting body positivity and empowerment.