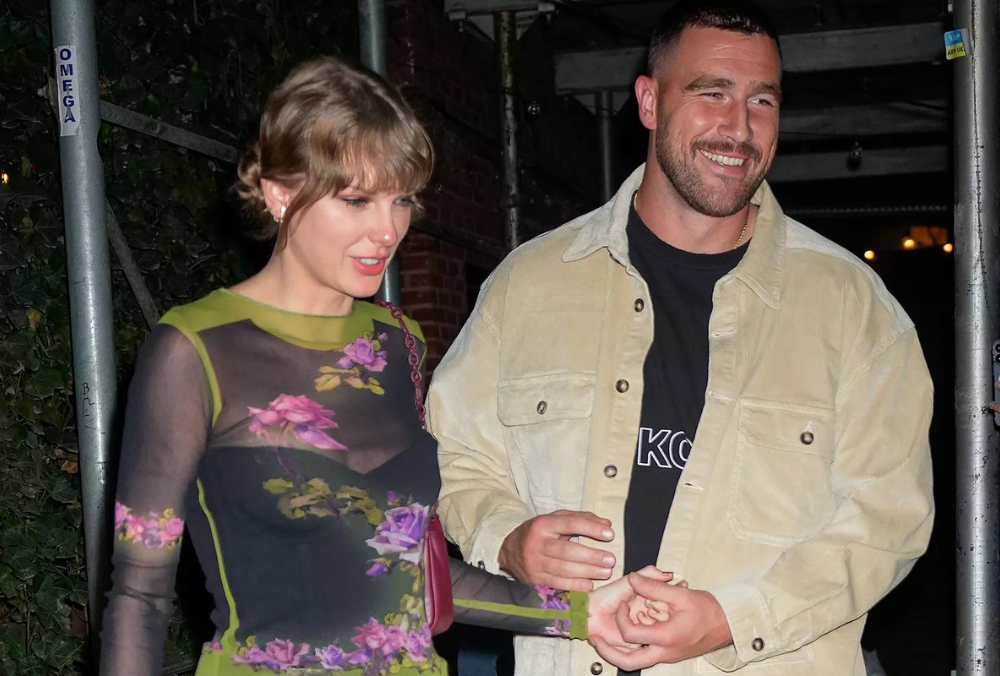 Taylor Swift and Travis Kelce's Cozy Night Out: Sparks Fly in New York City
Grammy award-winning sensation Taylor Swift and Kansas City Chiefs' star tight end Travis Kelce were recently spotted setting the town abuzz with their cozy night out in the heart of New York City. As the sparks fly in their blossoming relationship, the couple enjoyed a delightful dinner date at the iconic Waverly Inn.
Amidst the bustling cityscape, Taylor Swift, 33, graced the evening in her signature style. She flaunted a chic, sheer black and green floral long-sleeved top paired with a sleek black mini skirt. The ensemble radiated elegance and Swift's evergreen charm.
Travis Kelce, 34, the Kansas City Chiefs' charismatic tight end, complemented the occasion in a laid-back yet fashionable manner. He sported a classic black T-shirt beneath a beige jacket, matched flawlessly with his pants. A match made in style heaven, the couple's fashion harmony was evident.
What caught the attention of onlookers was the sight of Taylor Swift and Travis Kelce, hand in hand, strolling down the streets of New York. Their radiant smiles spoke volumes about their happiness in each other's company.
This enchanting evening marked the second occasion where the couple was seen holding hands, and they seemed thoroughly at ease, savoring their time together. Their hearts, it seems, have indeed found a delightful rhythm.
Swift and Kelce's night out follows their surprise appearances on the highly anticipated season 49 premiere of the iconic "Saturday Night Live." The couple was seen heading to an SNL afterparty at Catch Steak, igniting further speculations about their romance.
The party insiders shared that Swift and Kelce were the life of the gathering. They engaged in animated conversations, mingling with fellow partygoers. Their charisma filled the room, leaving everyone in high spirits. Notably, they stayed at the afterparty until the early hours of the morning, sparking curiosity about the depths of their connection.
With each public appearance, Taylor Swift and Travis Kelce continue to capture the imagination of fans and admirers. Their blossoming romance has taken the world by storm, and this cozy dinner in New York City further solidified their status as a captivating celebrity couple. As they hold hands and exchange smiles, their story promises to be one for the books.