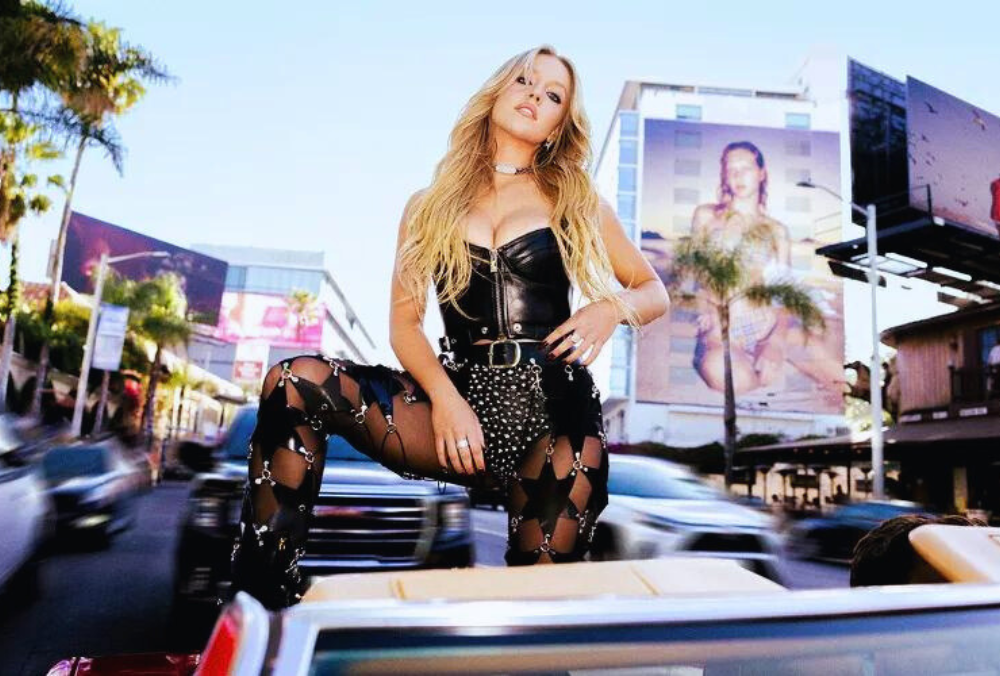 Sydney Sweeney Stars in The Rolling Stones' "Angry" Music Video
Sydney Sweeney, known for her role in "Euphoria," is making waves as the star of The Rolling Stones' latest music video for their song "Angry." The video, released recently, showcases her as the epitome of a rock-and-roll queen.
In the video, Sweeney can be seen thrashing around in a convertible with the top down, donning a leather bustier, studded hotpants, leather pants made from cutout stars chained together over black tights, and leather heeled boots. She accessorizes with fingerless leather gloves, a choker, and bold black eyeliner, completing the grunge-inspired look. Her bright blonde hair flows dramatically in the wind, adding to her rock-and-roll allure.
Sweeney's stylist, Molly Dickson, had teased this edgy look back in July while they were filming. Molly Dickson has an impressive portfolio, having styled stars such as Sadie Sink from "Stranger Things" and Cami Mendes from "Riverdale." She has consistently crafted stunning red carpet looks for Sweeney, including appearances at Cannes in Miu Miu, New York movie premieres in Schiaparelli, and Cinemacon in Vegas wearing Armani.
Glen Oropeza, Sweeney's hairstylist for the video, also shared content from their work together, referring to Sweeney as a "music video babe."
Sweeney herself shared a clip from the video on Instagram, captioned simply with "THE ROLLING STONES," showcasing her rock-and-roll vibe and her dancing in the backseat.
This music video follows Sweeney 's recent glamorous appearance at the Venice International Film Festival, where she and her fiancé Jonathan Davino enjoyed a stylish double date with Lili Reinhart and her boyfriend Jack Martin. The two couples were photographed hand in hand, heading to the Miu Miu Women's Tales Committee party at Cipriani, celebrating the fashion brand's women-directed short film series.
Sweeney's captivating presence in The Rolling Stones' "Angry" music video has left a lasting impression, further solidifying her status as a rising star.