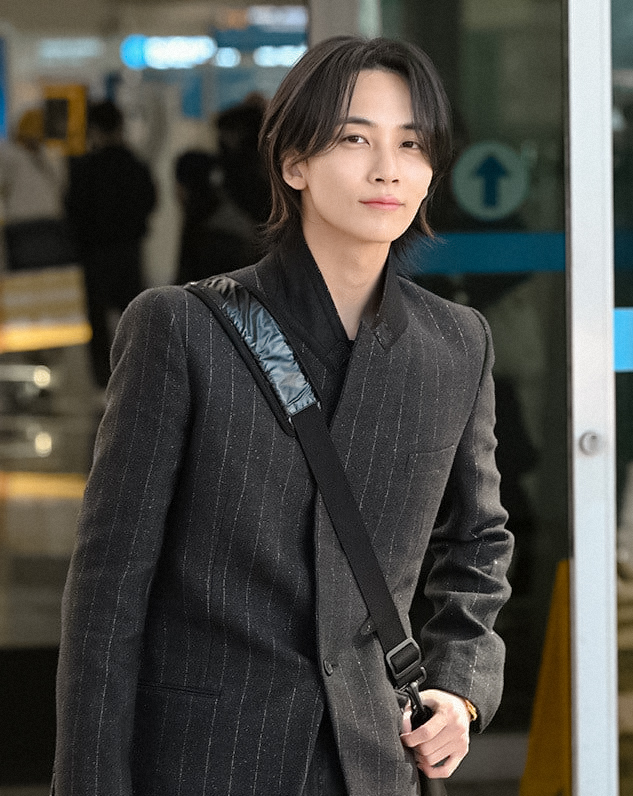 SEVENTEEN Jeonghan Leaves For Paris Fashion Week
SEVENTEEN Jeonghan was observed heading for Paris Fashion Week on January 16 in the early morning hours from Incheon International Airport. Jeonghan is believed to be wearing Yves Saint Laurent attire as he watches the presentation from the front row after being personally invited by the company's worldwide headquarters to visit Paris Fashion Week.
Jeonghan was wearing an elegant black suit with silver stripes, brown Chelsea boots, and a black leather cross-body bag. The K-pop star had a stylish, understated appearance, and his long, black hair wonderfully complemented it.
The idol will likely be clothed in items from the most recent Fall/Winter Men's Wear 2023 collection as a representative of Yves Saint Laurent. Since YSL hasn't participated in Paris Fashion Week in six years, fans of the company and SEVENTEEN Jeonghan are eager to see what the presentation has in store for them this time around.
The star is headed to Paris Fashion Week as part of Jeonghan's 2023 agenda as a representation of not just Saint Laurent but also a visual representative of K-pop. He was known for having unequaled visuals, and YSL noticed this when he was promoting SEVENTEEN. As a result, he was invited to his first-ever Paris Fashion Week.
Unsurprisingly, the idol's looks, long hair, and slender frame drew Saint Laurent's attention. Fans are most eager to witness his "refined visuals" while wearing YSL clothing. After hearing that he was leaving for the fashion show, CARATs couldn't help but mention the several occasions he's shown his penchant for experimenting.
In addition, SEVENTEEN Jeonghan is well known for his distinctive and eye-catching airport attire. The K-pop star demonstrates a variety of looks, demonstrating his ability to pull off any look with ease. Jeonghan is an expert dresser, as anybody who has looked at his Instagram will attest.
Additionally, the idol's numerous picture sessions support the notion that his attendance at Paris Fashion Week makes sense. His magazine cover photos have consistently generated buzz online as admirers marvel over how well he wears various outfits and how his appearance and body type suit diverse fashions.
The fans of SEVENTEEN Jeonghan are showing their pleasure in the idol because he was the first K-pop boy group member to visit Paris Fashion Week. While it is one thing to attend a fashion show as an ambassador or model, the fact that he was personally asked to represent the business by them says a lot about his standing in the K-pop community.
In other developments, WayV Ten, BLACKPINK Jisoo, BTS Jimin, and J-Hope will all be present at Paris Fashion Week. Since BTS V just received flowers from CELINE, the upscale company that previously invited him to the presentation, fans are also wondering about his potential return to Paris Fashion Week.