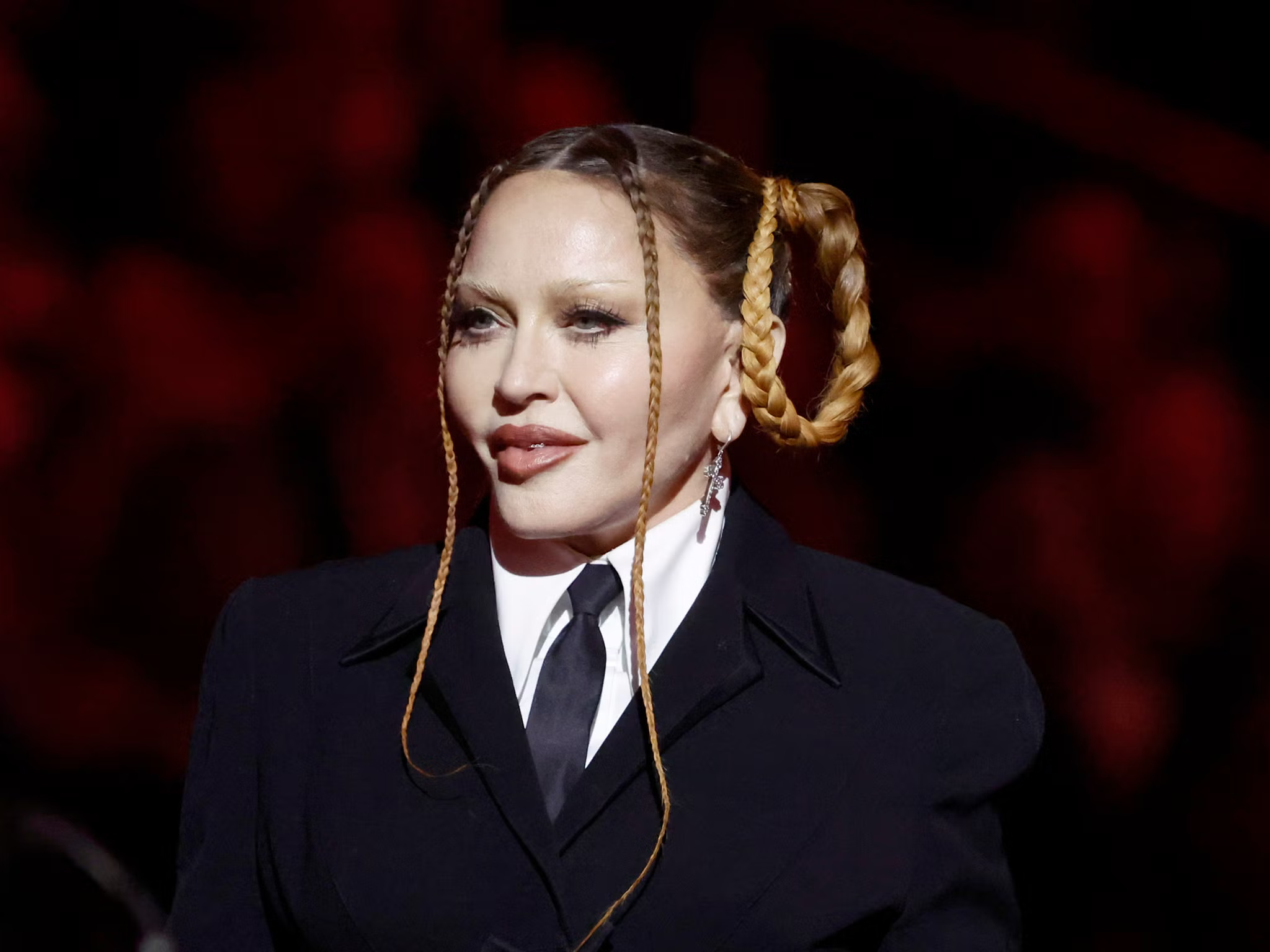 Madonna's Inclusive Father's Day Message to Her Dad and All Dads
Madonna is known for her iconic music and style, but she also has a lot of love and respect for her father, Silvio Ciccone. On Father's Day, the pop superstar shared a heartfelt and inclusive message to honor her dad and "all the dads out there."
In an Instagram post, Madonna posted a new selfie with her father, who is 92 years old, and a throwback photo of him when he was younger. She wrote:
Happy Father's Day to. All the Dad's out there!!! She's, He's, Them's and They's!! But Most of All to my Father -Silvio-who once told me he was gonna go until the wheels fall off!! S.A. M. E. Thanks for your unrelenting work ethic and Love and for refusing to spoil me in any wAy. You taught me how to be a Survivor! ♥️ Forever Grateful. But also really tired…… xxxxxxxx
Madonna's message was not only a tribute to her father, but also a recognition of the diverse and inclusive ways that people can identify as dads. She used gender-neutral pronouns to acknowledge that dads can be "she's, he's, them's and they's."
Madonna has always been vocal about her support for the LGBTQ+ community and has often used her platform to advocate for their rights and visibility. She has also been open about her own sexuality and fluidity, saying in a 2019 interview with Vogue Italia: "I like to compare myself to other kinds of artists like Picasso. He kept painting and painting until the day he died. Why? Because I guess he felt inspired to do so. Life inspired him, so he had to keep expressing himself, and that's how I feel."
Madonna also expressed her gratitude for her father's influence on her life and career. She thanked him for his "unrelenting work ethic" and for teaching her "how to be a survivor." She also revealed that he never spoiled her in any way, which may have helped her develop her independence and resilience.
Madonna has often credited her father for instilling in her a strong sense of discipline and determination. In a 2018 interview with Vogue UK, she said: "My father was very strong-minded and very disciplined and very hard-working, and he made me aware of how important it was to be prepared for anything in life."
Madonna's father is Silvio Anthony Ciccone, who was born in 1931 in Pennsylvania, US. He is of Italian descent and worked as an engineer for Chrysler and General Motors. He married Madonna's mother, Madonna Louise Fortin, in 1955 and had six children with her: Anthony, Martin, Madonna, Paula, Christopher and Melanie.
Madonna's mother died of breast cancer in 1963, when Madonna was only five years old. This was a traumatic event for Madonna and her siblings, who were raised by their father and his second wife, Joan Gustafson. Madonna has said that losing her mother made her feel "abandoned" and "alone," but also motivated her to pursue her dreams.
Madonna moved out of her father's house when she was 18 years old and moved to New York City to pursue a career in music. She faced many challenges and hardships along the way, but she never gave up on her vision. She became one of the most successful and influential artists of all time, selling over 300 million records worldwide and winning numerous awards and accolades.
Madonna is also a mother of six children: Lourdes Leon (born in 1996), Rocco Ritchie (born in 2000), David Banda (adopted in 2006), Mercy James (adopted in 2009), and twins Estere and Stella (adopted in 2017). She has said that being a mother is "the greatest accomplishment" of her life.
Bio of Madonna
Madonna is an American singer, songwriter, actress, businesswoman and humanitarian. She is widely regarded as the "Queen of Pop" and one of the most influential figures in music history. She is known for her constant reinvention of her music and image, as well as for pushing the boundaries of artistic expression and social issues.
Madonna was born on August 16, 1958 in Bay City, Michigan. She began her career as a dancer and later joined the rock band Breakfast Club as a drummer and singer. She launched her solo career in 1982 with the single "Everybody" and soon became a global sensation with hits such as "Like a Virgin," "Material Girl," "Papa Don't Preach," "Like a Prayer," "Vogue," "Ray of Light," "Music," "Hung Up" and "4 Minutes."
Madonna has also ventured into other fields, such as acting, directing, fashion, writing and philanthropy. She has starred in films such as Desperately Seeking Susan, Evita, Dick Tracy and A League of Their Own. She has directed two films: Filth and Wisdom and W.E. She has also written several books, including children's books and a coffee table book called Sex. She has founded several organizations, such as Raising Malawi, which supports orphans and vulnerable children in Malawi, and Ray of Light Foundation, which promotes education, health and human rights around the world.
Madonna has received many honors and awards for her achievements, including seven Grammy Awards, two Golden Globe Awards, a BAFTA Award, an MTV Video Vanguard Award, a Billboard Woman of the Year Award and a Rock and Roll Hall of Fame induction. She is also the best-selling female artist of all time, according to Guinness World Records.
Madonna continues to create new music and tour the world. Her latest album, Celebration, was released in 2022 and features some of her greatest hits as well as new songs. She is also preparing for her Celebration Tour, which will kick off in 2023 and celebrate her 40 years in the music industry.
Madonna is an icon of pop culture and a role model for millions of fans. She is a living legend who inspires people to express themselves and follow their dreams.