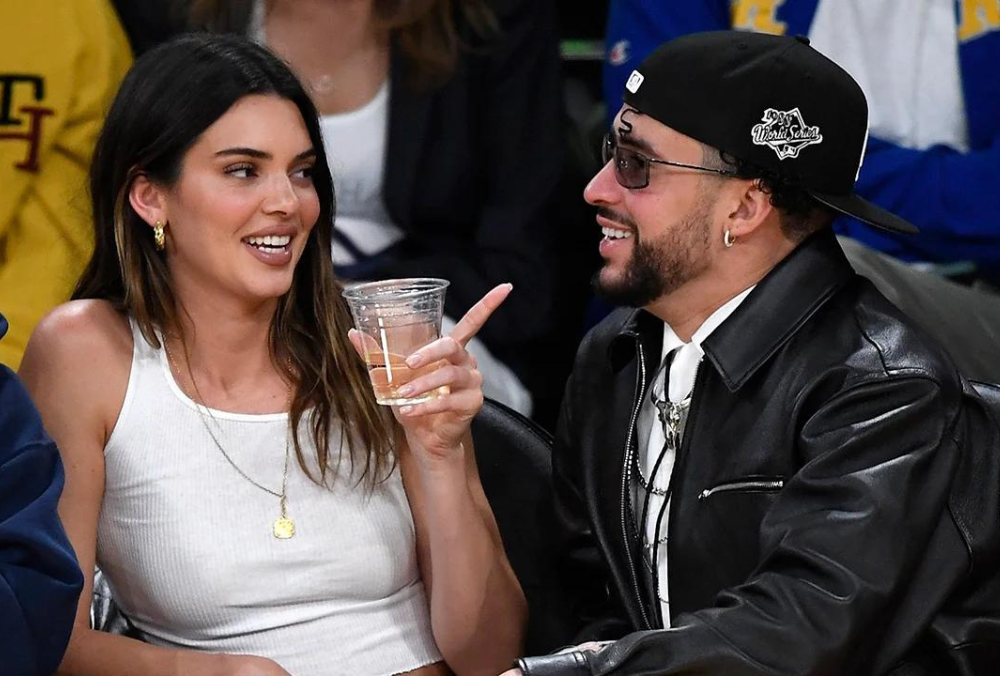 Kendall Jenner and Bad Bunny Share Rare PDA Moment at Drake's Los Angeles Concert
Kendall Jenner and Bad Bunny displayed affectionate moments during Drake's concert in Los Angeles, making their presence known at the rapper's It's All a Blur tour stop held at the Kia Forum.
The 27-year-old reality star, Kendall Jenner, and the 29-year-old reggaeton-trap sensation, Bad Bunny, were photographed enjoying the event. Bad Bunny sported a beige jacket, leather pants, a green hat, and sunglasses, while Kendall Jenner opted for a black top and leather pants.
Despite their busy schedules, the duo seemed to be having a great time during the show. Dancing along to Drake's tunes, the pair appeared to be genuinely enjoying the performance.
In a rare display of public affection, the two were spotted getting cozy during the event. Kendall Jenner leaned in to embrace Bad Bunny, placing her hands on his face, while he wrapped his arms around her waist. Their happiness was evident, both wearing big smiles.
Throughout the concert, fans captured moments of their interaction, including dancing in the crowd and sharing conversations.
Kim Kardashian, Kendall's sister, was also present at the show, making it a memorable family outing.
Kendall Jenner and Bad Bunny's relationship has been gaining attention since they first linked up in February. The couple has been spotted on several date nights, displaying their affection and commitment to each other. Late July saw them enjoying sushi in West Hollywood, and they were later seen leaving Dave Chappelle's comedy show together in early August.
Their romantic journey continued with a vacation in Idaho, during which they were described as "in love" and "super serious" by sources. Despite the lack of a public announcement or social media confirmation, their consistent appearances together have fueled speculation about their relationship.
The duo's connection initially sparked rumors in February, when they were seen leaving a supposed double date with Justin Bieber and Hailey Bieber. While the couple has remained tight-lipped about their status, sources have noted that Bad Bunny is different from Jenner's previous relationships and that they are enjoying their time together. They have also been spotted at various events, including Bad Bunny's headline performance at Coachella in April.