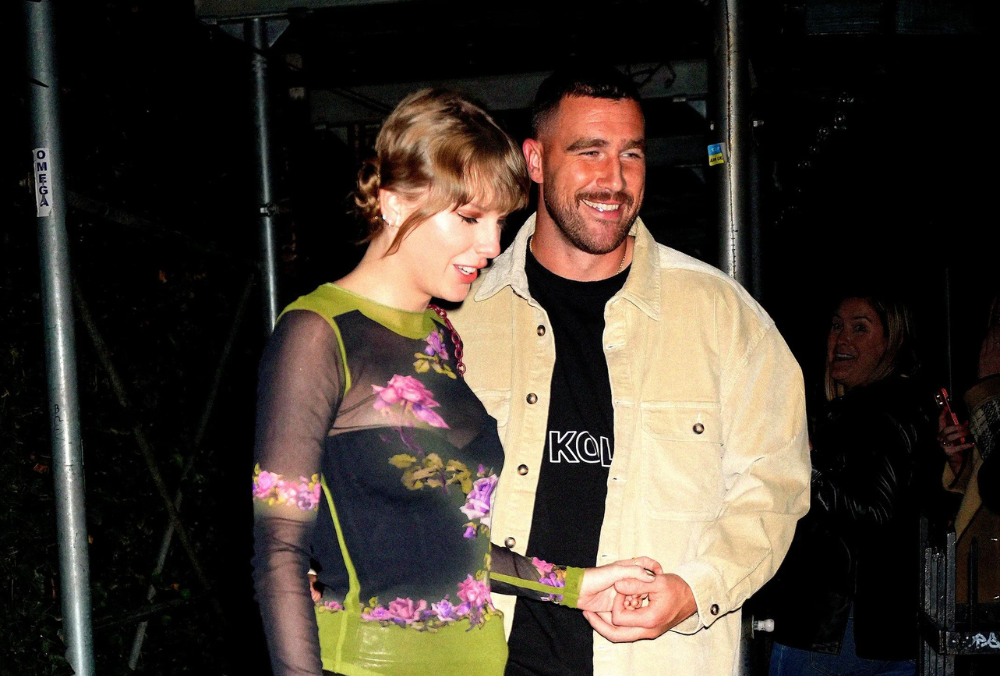 Taylor Swift Acknowledges Relationship with Travis Kelce Onstage During Eras Tour
In a surprising and delightful moment during her Buenos Aires concert, Taylor Swift officially acknowledged her relationship with Kansas City Chiefs player Travis Kelce. The confirmation came as Swift playfully altered the lyrics to "Karma," a song from her latest album The Midnights.
At the conclusion of her three-hour show, Swift altered the original lyrics, singing, "Karma is the guy on the Chiefs, coming straight home to me," much to the delight of the audience. Travis Kelce, who was present in the VIP section along with Swift's father, Scott Swift, was visibly moved and applauded by the reference.
🎥| Travis Kelce's reaction to "Karma is the guy on the Chiefs" pic.twitter.com/aXnJFTMhXn

— The Swift Society (@TheSwiftSociety) November 12, 2023
The original lyrics of "Karma" alluded to Swift's ex-boyfriend Joe Alwyn, with the line "Karma is that guy on the screen, running straight home to me." Swift and Alwyn announced their split in April after a six-year relationship.
Travis Kelce and Taylor Swift's relationship had been the subject of speculation, with the couple making joint appearances on Saturday Night Live and being spotted together at various events. Swift has been relatively private about their relationship, but the onstage lyric change serves as a public acknowledgment.
Fans captured the moment Kelce held up a sign during the performance of "The Archer," which read, "We will stay," a sweet response to the lyrics, "Who could ever leave me, darling? But who could stay?" Additionally, after the concert, footage showed Swift rushing into Kelce's arms for a kiss.
The Eras Tour has been a platform for Swift to showcase not only her musical talents but also to share glimpses of her personal life. Kelce's attendance at the concert is a full-circle moment, considering the origin of their romance. Kelce had previously attended Swift's Eras Tour concert in Kansas City in July, revealing that he had made her a friendship bracelet with his number on it, though he didn't get the chance to give it to her at the time.
This public acknowledgment adds another layer of sweetness to their relationship, leaving fans eagerly anticipating more adorable moments from this celebrity couple.