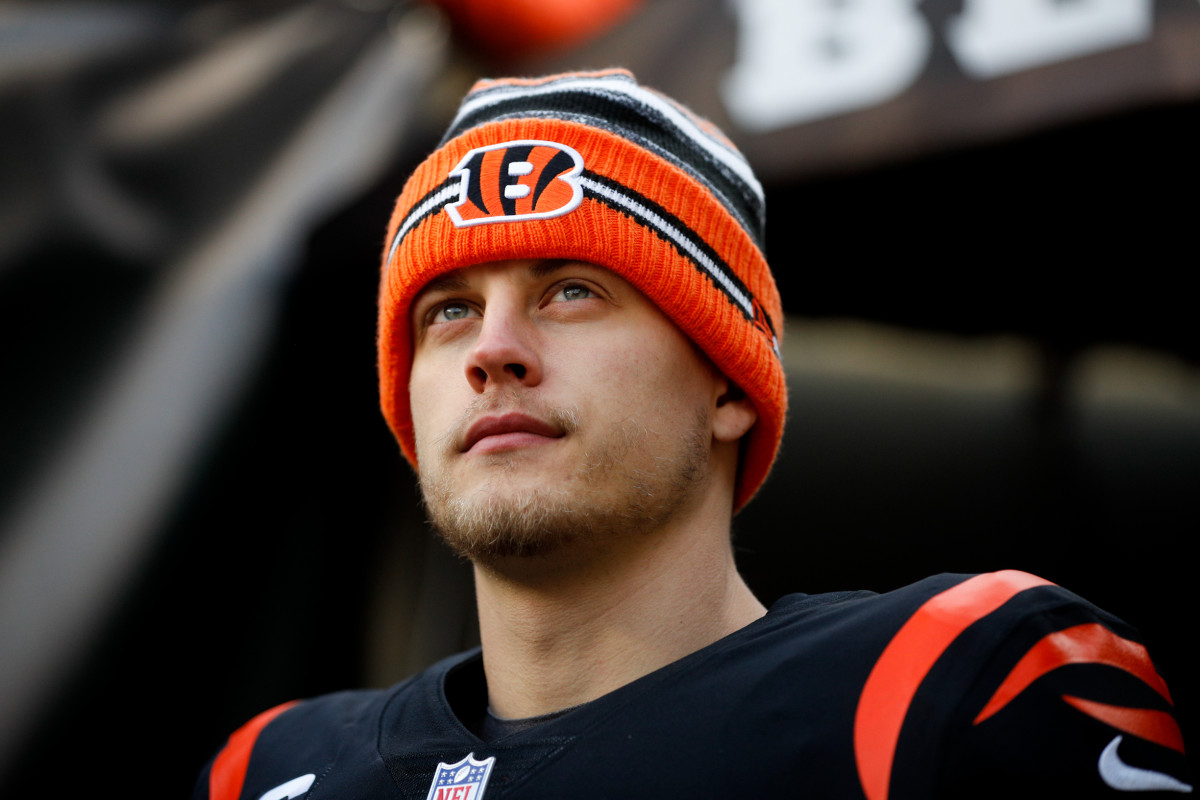 Joe Burrow The Coolest QB in the NFL and a Potential Swiftie
Cincinnati Bengals quarterback Joe Burrow has a reputation for being calm and collected under pressure. He led his team to a historic turnaround and a spot in the AFC Championship game last season, earning him the nickname "Joe Cool". But when it comes to music, he's not so cool with one of the biggest pop stars in the world: Taylor Swift.
Swift is bringing her Eras Tour to Paycor Stadium, the home of the Bengals, for two nights on June 30 and July 1. The tour is a celebration of her re-recorded albums, featuring songs from her entire career. It's a massive spectacle that has attracted celebrities like Aaron Rodgers and J.J. Watt, who are both avid Swifties.
But Burrow is not one of them. In an interview with Sports Illustrated, he said he respects Swift's career but he doesn't listen to her music much. "I can't say that I'm listening to too much Taylor Swift on the speakers and the headphones. I know a lot of people that are, but that's just not me," he said.
He also revealed that he's not a fan of country music, which is where Swift started her career. "I'll listen to some indie, I'll listen to some hip hop, some pop," he said. "I'll listen to just about anything but country. I'm not a country guy."
So will he attend the shows at Paycor Stadium? He played it cool, as usual. "I've heard the tour is a lot of fun, though. Maybe I'll stop by," he said.
Maybe?! Come on, Joe! Don't you want to see Swift perform hits like "Snow On The Beach", "Bad Blood", "You Belong With Me" and more? Don't you want to experience the magic of her stage presence, her costumes, her dancers and her fans? Don't you want to be part of history?
We think you do, Joe. And we think you should go. After all, you're the coolest QB in the NFL and you deserve some fun. And who knows, maybe you'll become a Swiftie after all..
Joe Burrow "might stop by" Taylor Swift concert at Paycor at end of the month. pic.twitter.com/cfvt0opgJa

— Mike Petraglia (@Trags) June 13, 2023
ABOUT JOE BURROW
Joe Burrow is an American football quarterback for the Cincinnati Bengals of the National Football League (NFL). He was born on December 10, 1996 in Ames, Iowa. He played college football at Ohio State and LSU, where he won the Heisman Trophy and the national championship in 2019. He was drafted by the Bengals with the first overall pick in the 2020 NFL Draft. He led the Bengals to their first playoff win in 31 years and an appearance in Super Bowl LVI in his second season. He is known for his calmness under pressure and his nickname "Joe Cool".
About Taylor Swift
Taylor Swift is one of the most successful and influential artists of all time. She has sold over 200 million records worldwide and won 11 Grammy Awards, including three Album of the Year awards. She is known for her catchy songs, personal lyrics and loyal fanbase.
Swift is also known for her activism and philanthropy. She has supported various causes such as education, LGBTQ+ rights, women's rights and animal welfare. She has donated millions of dollars to various charities and organizations. She has also been vocal about her political views and encouraged her fans to vote.
Swift is currently dating British actor Joe Alwyn, who has co-written some of her songs under the pseudonym William Bowery. She lives in Nashville, Tennessee with her three cats: Meredith Grey, Olivia Benson and Benjamin Button