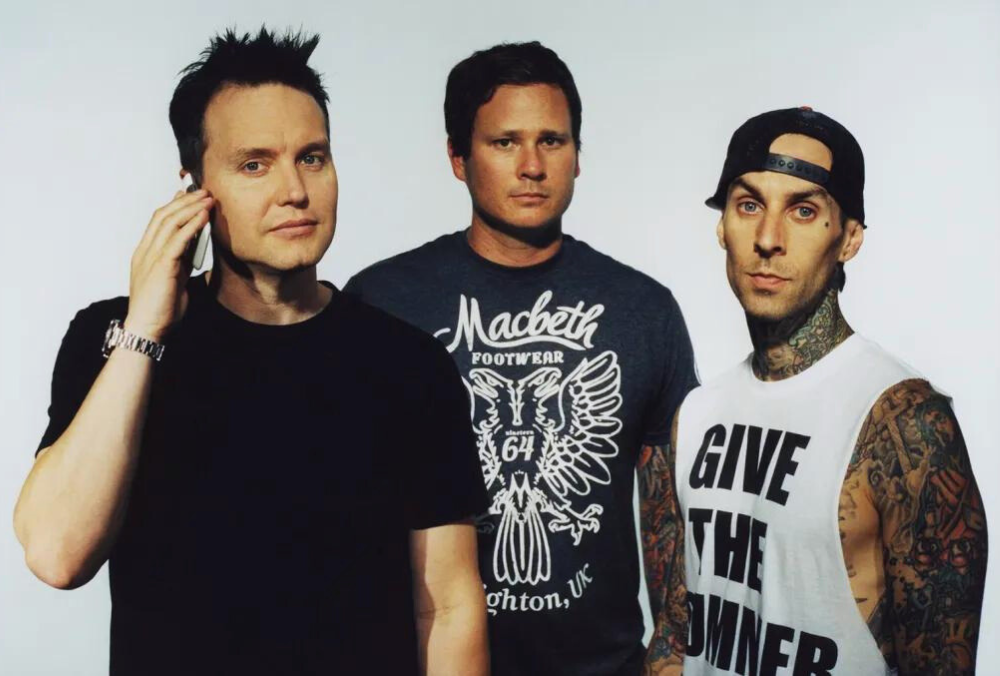 Blink-182's Tom DeLonge Opens Up About Unexpected Return to Music and Touring
Blink-182, the beloved pop-punk trio consisting of Mark Hoppus, Travis Barker, and Tom DeLonge, is making a triumphant return with their first album together since 2011's "Neighborhoods." The highly anticipated album, titled One More Time…, is set to drop on October 20 via Columbia Records.
To build excitement for the release, the band unveiled a four-minute trailer. In this captivating video, Blink-182 takes a candid look at their individual struggles, the factors that caused their initial separation, and the events that brought them back together.
The trailer doesn't shy away from addressing Tom DeLonge's departure from the band in 2015. At that time, rumors swirled that he left to pursue a career that some labeled as "professionally crazy." DeLonge, now 47, reflects on this period, admitting, "I found myself in these weird oceans that I definitely didn't know how to navigate. I definitely didn't want to hold these guys back in any kind of way."
Mark Hoppus, 51, chimes in with a candid recollection: "We're like, 'f— Tom DeLonge. If he doesn't like Blink, then f— it.'"
DeLonge goes on to share, "I remember telling my wife now, like, well I don't think I'm ever going to play music again. I don't think I'm ever going to tour again, until Mark told me he was sick, and then that was the only thing I wanted to do."
Hoppus reveals the personal trials he faced when diagnosed with stage 4 diffuse large B-cell lymphoma in April 2021, which severely affected his vocal cords. He confesses that chemotherapy left him "a hollow shell," and he had to work diligently with a vocal coach to prepare for their Coachella performance in April.
Travis Barker, 47, a survivor of a 2008 plane crash that instilled a fear of flying, ponders the meaning behind their title track, One More Time, and questions why their band seems to reunite under tragic circumstances.
Barker reflects, "Why does it take these catastrophes, like me being in a plane crash or me being sick, for our band to get back together?"
Despite the trials they've faced, Barker expresses unwavering faith in the band's brotherhood, stating, "I always knew that the brotherhood wouldn't ever deteriorate or wouldn't be there. I really feel like Blink is us three, and as soon as we accept that and we don't settle for anything less than that, I just think that's the future."
The full interview with Apple Music's Zane Lowe, along with the release of One More Time and its corresponding video, is set to be unveiled on September 21.
One More Time… is produced by Barker and is described as capturing the band at their peak, exploring themes of tragedy, triumph, and, most importantly, brotherhood.
Blink-182 made their highly anticipated return with a performance at Coachella in April, followed by their World Tour commencing on May 4. Although they had to postpone some dates due to a life-threatening emergency surgery for Barker's wife, Kourtney Kardashian, the band is committed to their tour, scheduled through April 6, 2024.
The album features a tracklist that promises to deliver the quintessential Blink-182 sound:
"Anthem Part 3"
"Dance with Me"
"Fell in Love"
"Terrified"
"One More Time"
"More Than You Know"
"Turn This Off!"
"When We Were Young"
"Edging"
"You Don't Know What You've Got"
"Blink Wave"
"Bad News"
"Hurt (Interlude)"
"Turpentine"
"F— Face"
"Other Side"
"Childhood"