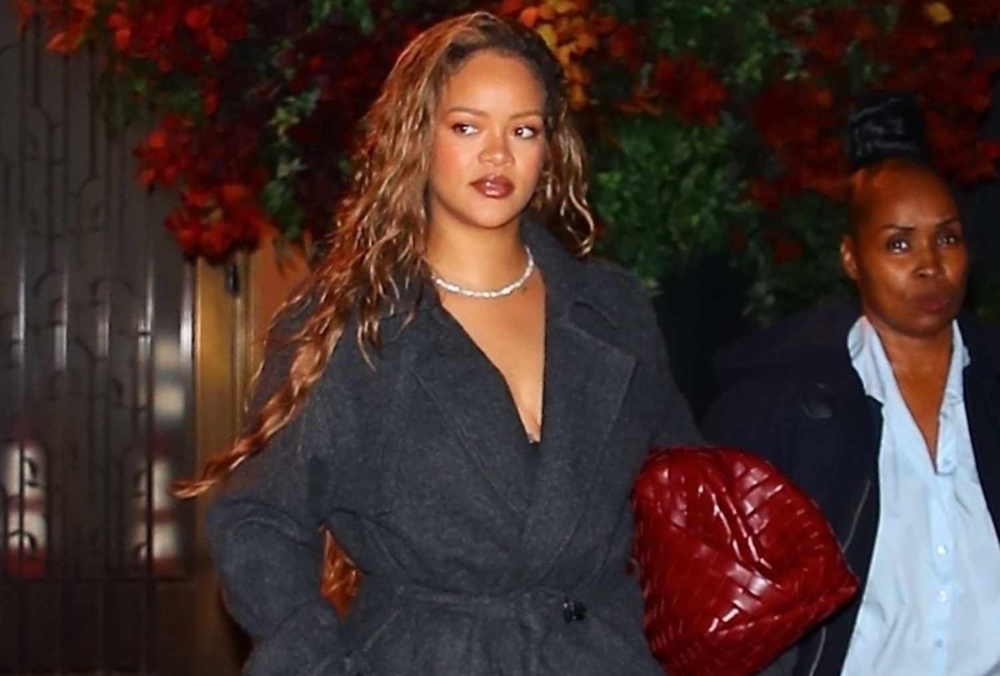 Rihanna's Fall Fashion Statement in New York City
Rihanna, the global sensation, isn't just dominating the music charts, but she's also owning the world of fashion. The 35-year-old singer recently stepped out in New York City for dinner in an outfit that's bound to make it to the fashion highlight reel this fall.
As the temperatures drop, Rihanna knows how to bundle up in style. She was spotted sporting a floor-sweeping gray Dries Van Noten coat, perfectly cinched at the waist with a stylish belt. The coat exudes an air of elegance, proving that Rihanna's fashion sense is as sharp as her music.
To complete her look, Rihanna paired her coat with the trendy Balenciaga Pantaleggings in shiny black. These thigh-high boots, with their knife-like heels, are not just an accessory; they're a statement piece.
In the fashion world, accessories make or break an outfit. Rihanna nailed it with a large, dark red Bottega Veneta leather clutch, casually tucked under her arm. Notably, the clutch added a pop of color to her ensemble, and her bright red nails were the perfect match.
Accessories are where Rihanna excels. She topped off the look with oversized black square sunglasses and a diamond-embellished choker, proving that it's all in the details. Her light brown hair, freshly dyed, flowed down her back in long loose waves.
This isn't the first time Rihanna has wowed us with her style. Just last week, she and her partner, A$AP Rocky, celebrated his 35th birthday. The couple made quite an entrance with their carefully curated outfits, reinforcing their status as a power couple.
While Rihanna wore a black cropped bomber jacket and her favorite Balenciaga Pantaboots, A$AP Rocky rocked a brown checked blazer, gray sweater, and an array of pearl clips in his hair.
Rihanna doesn't just shine in monochrome; she's also unafraid to experiment with prints and fabrics. Last month, she stepped out wearing a Miu Miu denim jacket and wide-leg jeans, adding a trendy touch with a white shirt tied at the waist. Her choice of footwear, the Balenciaga Marie-Antoinette pumps, demonstrated that she's unafraid to make a statement with her fashion.
As Rihanna continues to impress the world with her musical talents, she also proves she's a style icon to watch. Her outfits make headlines just as much as her hit songs, showing she's truly a force to be reckoned with in the world of entertainment and fashion.
Stay tuned to see what this fashion maven will dazzle us with next.