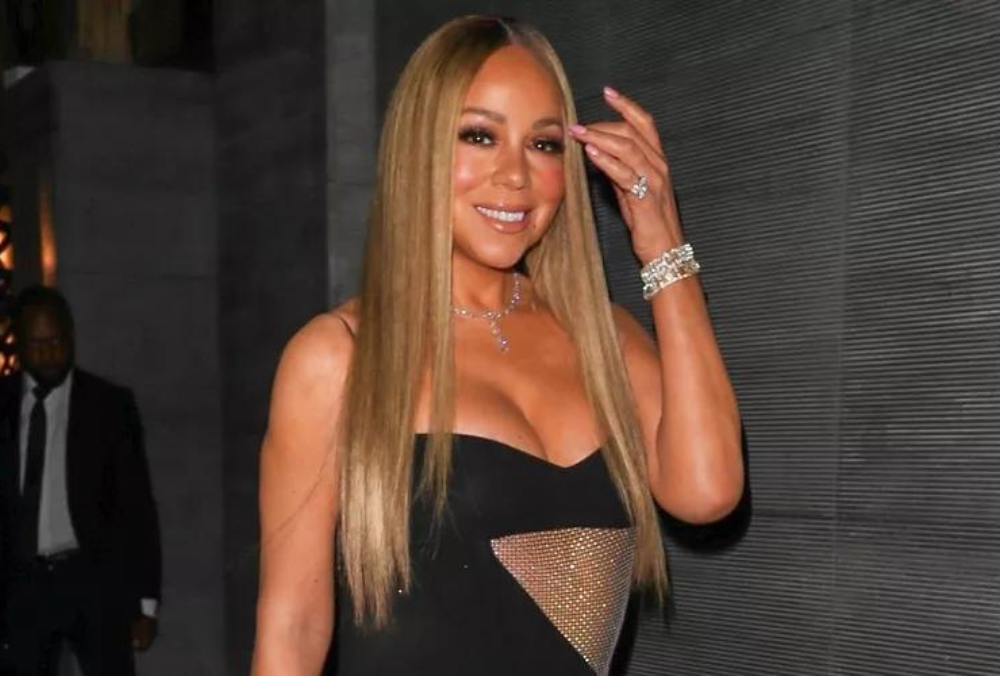 Mariah Carey Dazzles in Sparkling, Skin-Baring Gown and Diamonds During Glam Night Out
Superstar Mariah Carey dazzled on a recent night out in Los Angeles. The 54-year-old singer was photographed wearing a stunning, skin-baring dress and an array of diamonds during a dinner outing at the popular Los Angeles restaurant, Nobu.
Mariah Carey wore a spaghetti-strap peek-a-boo bodycon dress featuring a chainmail cutout that highlighted her curves. She paired the dress with black heels, creating a glamorous and alluring look.
To complete her stylish ensemble, Carey adorned herself with exquisite jewelry, including her Hamilton Jewelers Private Reserve 18K white gold necklace, which featured pear-shaped and brilliant cut diamonds. Her matching earrings added even more sparkle to her look.
Carey's makeup was kept simple and emphasized her natural beauty with a peachy and glowy palette. She styled her honey-blond hair down in a sleek middle-parted manner.
The diva's fashion sense is renowned, and her latest appearance exemplified her talent for turning heads with her glamorous style. Mariah Carey is no stranger to luxury, and her choice of attire and jewelry during the night out perfectly encapsulated her iconic status in the world of entertainment and fashion.
Despite her dazzling appearance, Carey recently embraced a more down-to-earth and festive look for a holiday campaign with The Children's Place. This campaign also featured her 12-year-old twins, Moroccan and Monroe, whom she shares with her ex-husband, Nick Cannon.
As part of this partnership, Carey designed a stunning red A-line ball gown with a flowing green plaid sash, simply referred to as "The Dress." She was excited about this aspect of the collaboration, describing it as "really fun" to design a classic and pared-down piece for the holiday season.
This holiday campaign allowed Carey and her twins to wear matching pajama sets, providing a fun and heartwarming way to celebrate the holidays together.
Mariah Carey's ability to switch between high glamour and cozy comfort, all while embracing the holiday spirit, reflects her versatility and enduring influence in the world of fashion and entertainment.