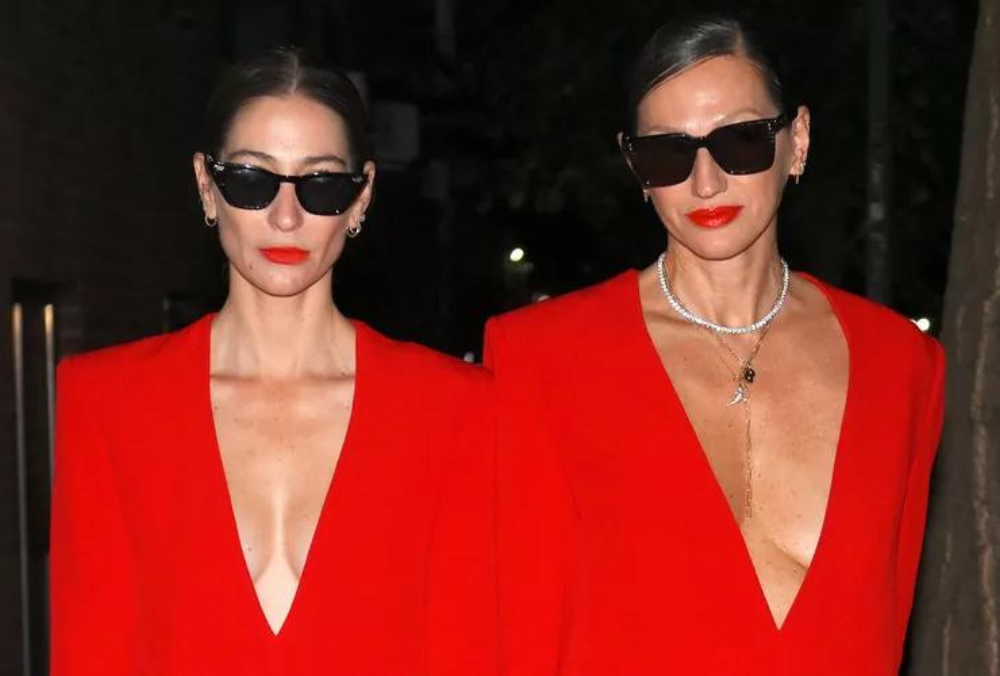 Jenna Lyons and Sarah Clary Turn Heads in Matching Red Dresses
Jenna Lyons and Sarah Clary, renowned fashionistas and longtime friends, turned heads with their coordinated style during a night out in New York City. The two were spotted arriving at the Holiday Bar, looking like twins in their matching red dresses and complementary fashion choices.
Jenna Lyons, who gained fame as a star on "The Real Housewives of New York City," and Sarah Clary, who worked as an assistant for Lyons during her time as the president and creative director of the fashion brand J.Crew, have cultivated a deep friendship over the years.
Their recent appearance together showcased their striking resemblance. Both women donned bright red dresses with plunging necklines, creating a cohesive and visually captivating look. In addition to their matching attire, both wore their hair slicked back, sported red lipstick, and completed their ensembles with black sunglasses.
Sarah Clary's journey to her position as Jenna Lyons' creative partner began when she transitioned from her role as an assistant at J.Crew. During an exit interview with J.Crew's HR department, it was mentioned that Jenna Lyons had taken notice of her. As a result, she was offered the opportunity to work with Lyons in the styling department, setting the stage for a transformative chapter in her career.
In their professional partnership, Clary became a creative partner for Lyons and the creative director of Lyons L.A.D, a new project led by Jenna Lyons.
Sarah Clary has expressed deep admiration and gratitude for Jenna Lyons, describing her as a creative genius who inspires, supports, and empowers others. She commends Lyons for her unique ability to recognize and nurture talent, not just in the fashion industry's mainstream spaces but also in the often-overlooked ones. Their partnership has been instrumental in both of their personal and professional growth, with Clary noting that Lyons has consistently guided her to recognize her strengths and learn from her weaknesses.
In September, Sarah Clary celebrated her bond with Jenna Lyons by posting a picture on Instagram that featured herself, Lyons, and Jenna's girlfriend, Cass Bird. She captioned the image with a nod to their shared history, acknowledging that they had met and formed lasting friendships while wearing J.Crew's "critter shorts and roll neck sweaters."
Jenna Lyons garnered attention for her romantic relationship with Cass Bird, which she publicly revealed in a New York Times feature in June. Speculation about their engagement arose in September when Jenna was seen wearing a ring that resembled an engagement ring. However, a source subsequently dispelled these rumors, clarifying that Jenna was not engaged and that she had owned the ring for an extended period.
Jenna Lyons and Sarah Clary's close friendship and their distinctive fashion choices continue to make them notable figures in the fashion and entertainment worlds. Their shared journey, both personally and professionally, reflects a supportive and inspiring bond that has been integral to their success.
Stay tuned for more updates on Jenna Lyons and Sarah Clary, as they continue to make waves in the fashion industry and beyond.