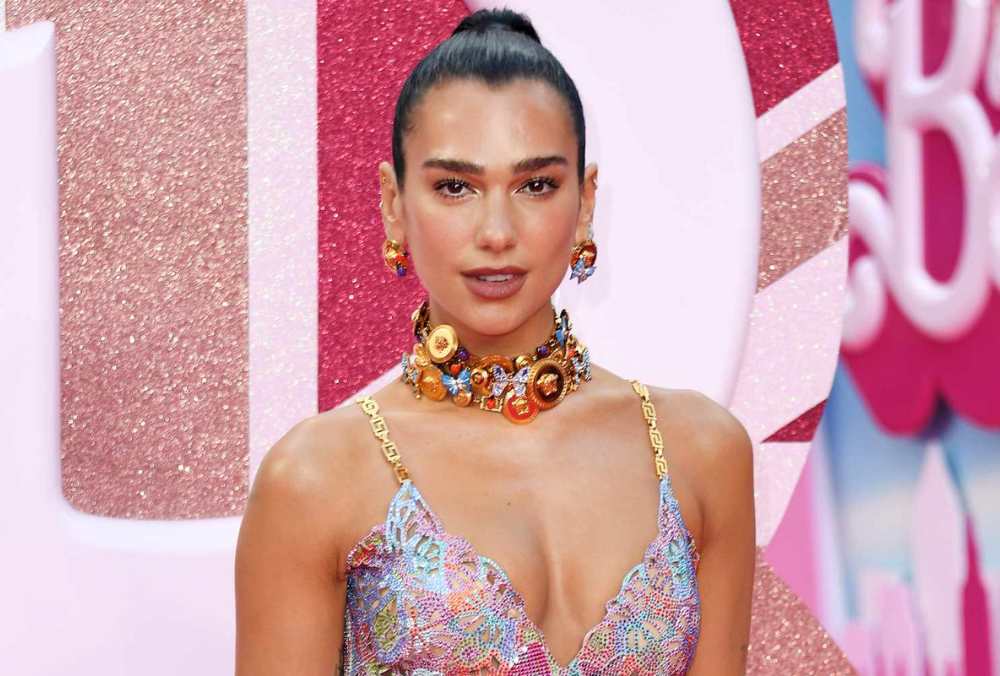 Dua Lipa Celebrates 28th Birthday in Glamorous Style, Showcasing Gucci Bikini Top
Dua Lipa, the chart-topping singer known for hits like "Dance the Night," marked her 28th birthday with a fashion-forward celebration. In a series of captivating photos shared on her Instagram, Lipa showcased her distinctive style while wearing a chic brown Gucci bikini top.
Adding a touch of glamour to her birthday ensemble, Lipa paired the bikini top with eye-catching light purple bejeweled pants, adorned with a sparkling chain. She completed the look with a sheer red shrug, oversized red sunglasses, and a silver handbag. A layered pearl statement necklace featuring oceanic silver pendants accentuated her outfit.
Lipa, always one to share moments with her fans, captioned the post: "Raving into my 28th year 👾 thank you for the birthday wishes." The Grammy-winning artist struck fierce poses for the camera, including a shot of her biting down on her sunglasses. Another photo captured a lighthearted moment as she posed alongside her friend Sarah Lysander.
Before her birthday, Lipa indulged in a Greek getaway, where she flaunted her vacation style. She treated her Instagram followers to an enticing carousel of images featuring her in various fashionable bikini looks against the stunning backdrop of the Greek coastline.
Among the striking snapshots, Lipa was pictured on a yacht wearing a pink skirt, a checkered bikini top, and a white open shirt accessorized with stone bracelets and gold earrings. Another snapshot showed her standing on sea rocks in a vibrant red swimsuit, followed by a romantic image of her laughing with her French filmmaker beau, Romain Gavras, against a picturesque Greek sunset.
Lipa's holiday wardrobe continued with a yellow bikini top adorned with floral prints and a multi-colored necklace, complemented by red, white, and black shorts. Documenting her travel ensembles, she effortlessly pulled off a denim pants and white embroidered top look, complete with a crochet handbag.
Notably, Lipa embraced her inner Mermaid Barbie with a pink metallic ensemble reminiscent of the iconic character. Donning a metallic Diesel minidress featuring a stylish waist sash, she paired the look with a golden chain necklace and elegant gold and white rings.
In her Instagram posts, Lipa showcased her sense of style in front of captivating landscapes, whether it be a poolside scene or a tranquil shoreline. She playfully referenced the Barbie movie by captioning the post with a nod to one of Ryan Gosling's lines: "all I do is beach."
As Dua Lipa continues to enchant her fans with her musical prowess and fashion-forward choices, her 28th birthday celebration serves as yet another testament to her iconic status in the entertainment industry.