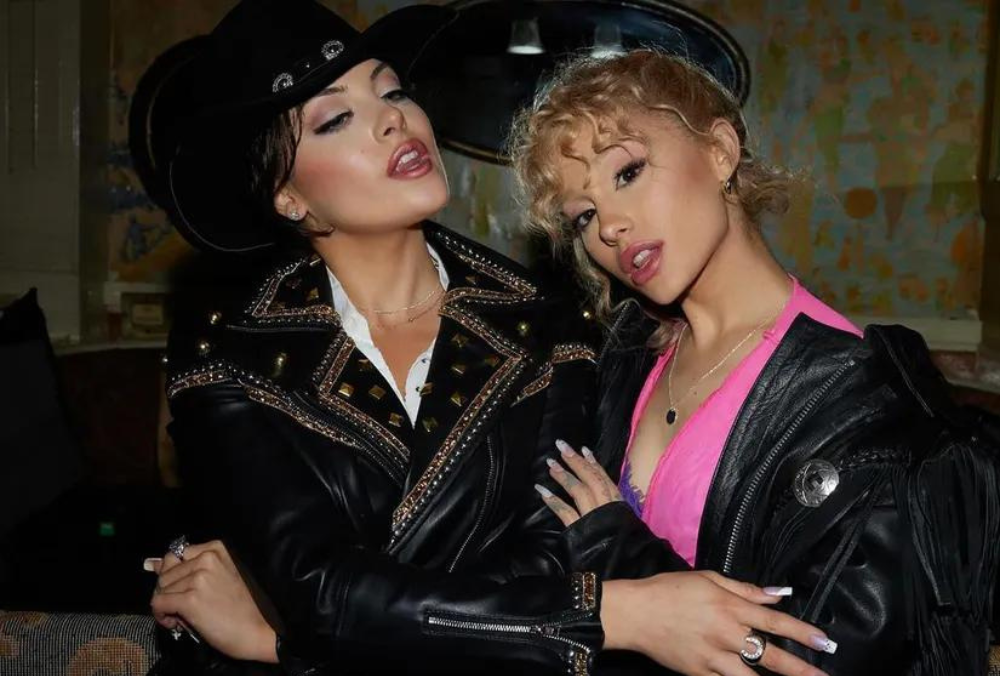 Ariana Grande and Liz Gillies Deliver Pure Camp with Their Halloween Recreation of a Deranged Showgirls Scene
Ariana Grande and Elizabeth Gillies are not ones to take Halloween lightly. Last year, the former Victorious co-stars wowed fans by dressing up as characters from the 2000 mockumentary Best In Show, with Grande portraying Jennifer Coolidge's Sherri Ann Cabot and Gillies embodying Jane Lynch's Christy Cummings. But for Halloween 2023, they managed to outdo themselves by taking on the personas of Nomi Malone and Cristal Connors, the iconic characters played by Elizabeth Berkley and Gina Gershon in director Paul Verhoeven's cult camp classic, Showgirls.
In a joint Instagram post, Gillies and Grande shared their striking transformation into the characters, with Gillies boldly declaring, "You are a whore, Darlin'!" in a nod to one of the movie's unforgettable lines. Grande also shared her own post, channeling Elizabeth Berkley's character with the caption "different places !!!!!"
The duo didn't stop at the costumes – they went the extra mile to recreate a memorable and deranged scene from Showgirls. In this scene, Nomi and Cristal bond over dog food and their physical attributes. Here's a transcription:
Nomi: "I get a headache from champagne."
Cristal: "This isn't champagne. This… is HOLY WATER. I named myself after this holy water. Chrissie Lou Connors used to have ginger brown hair and little bitty tits. It's amazing what paint and a surgeon can do. You have great tits. They're really beautiful."
Nomi: "Thank you."
Cristal: "I like nice tits. I always have, how about you?"
Nomi: "I like having nice tits."
Showgirls is truly a unique and insane cinematic experience that continues to captivate audiences.
Happy Halloween 🍾 pic.twitter.com/I85rAIoNp7

— Elizabeth Gillies (@LizGillies) October 31, 2023