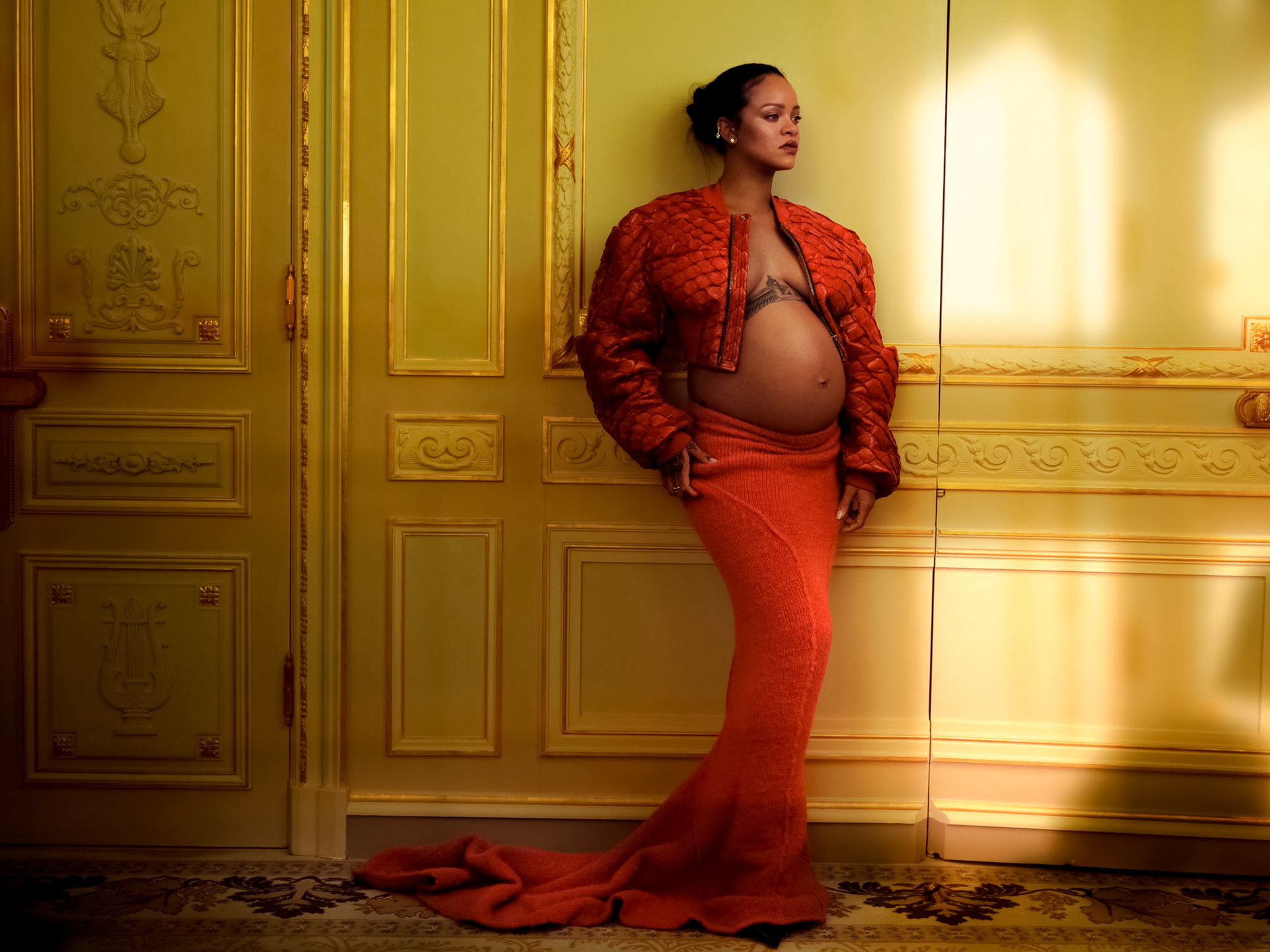 See Pregnant Rihanna Work It In Plunging White Dress
Turn on the lights—you're going to want to see Rihanna's birthday attire. The music singer, who is expecting her and boyfriend A$AP Rocky's second child, celebrated her big 3-5 on Feb. 20 in style. Rihanna stepped out for a special supper at Giorgio Baldi in Santa Monica, Calif., wearing a plunging white little dress with a matching see-through bra.
She accessorized with a long black coat, glittering shoes, and a furry purse. As usual, the singer sparkled like a diamond while wearing diamond jewelry, including a heavy chain bracelet and a huge cocktail ring on her left middle finger.
The birthday party comes only a week after Rihanna confirmed her pregnancy during her spectacular halftime show at the 2023 Super Bowl. While she didn't scream the news from the top of her floating platform, she did allow her baby bump—which she displayed in a skin-tight red ensemble—to do the talking.
Rihanna's unborn child will join her and Rocky's 9-month-old boy, the name of whom they have not announced publicly. In fact, the couple was so concerned about keeping details about their baby boy private that they waited more than a year before revealing the first glimpse of his face. Rihanna defended her decision to keep her baby out of the spotlight in her current cover story for British Vogue, which was accompanied by images of him.
"We get to decide as parents when and how we do that," she said. "Throw me to the wolves. Do what you want with me. But he doesn't have a say in any of this. We've been protecting him thus far and you don't have any consent to be posting photos or selling photos of my child, a minor. Get the hell out of here with that."
That is not to suggest that Rihanna will not occasionally share glimpses of their family life. "We're best friends with a baby," she told the outlet of her and Rocky. "We have to be on the same page, but we've always kind of had that in our relationship. Everything changes when you have a baby but I wouldn't say it's done anything but made us closer."
Rihanna added of their baby boy's bond with the "LSD" rapper, "Their connection is undeniable. The second Rocky makes eye contact with him he is on fire. The whole thing they say about sons and moms, it's a myth. Sons and fathers is crazy. I realized that the validation that you really need as a boy is from your father."
Scroll on to see more of Rihanna's pregnancy style.