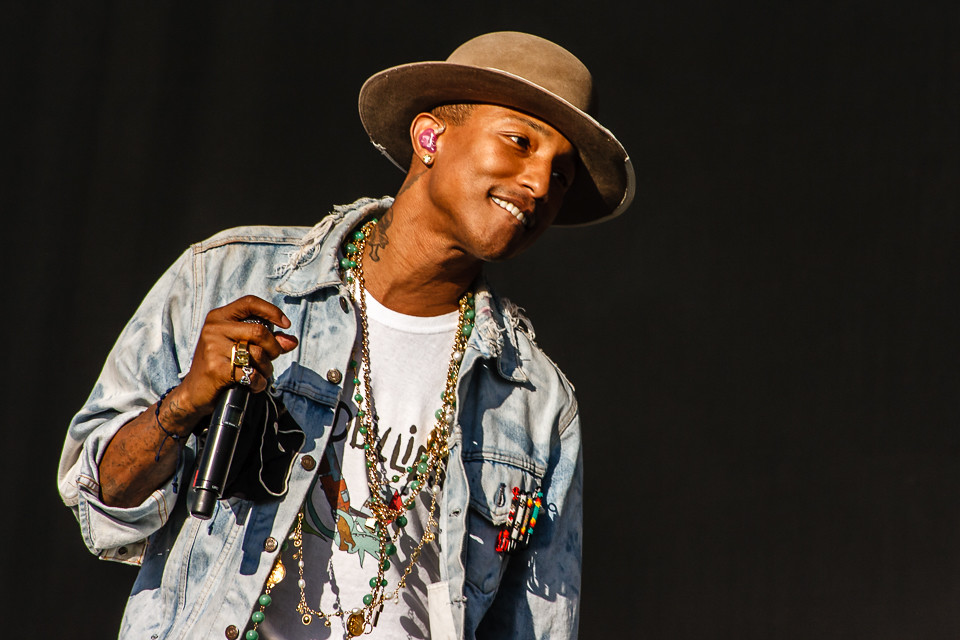 Pharrell Celebrates 50th Birthday, Leaving Fans in Disbelief About His Age
It's fitting that Pharrell is a mononym because he is a one-of-a-kind. Speaking with The Guardian earlier this year, the music and fashion icon shared how he's remained ageless.
This interview is worth revisiting today, April 5, which is his 50th birthday.
"I have been dealing with my dermatologist for 26 years," Pharrell told The Guardian. "It's a combination of things. One is understanding that I needed to be curious about how my skin works, what works for it, and then coming up with some sort of regimen and being committed to it. That's what led us to stepping into skin health [Williams launched a vegan skincare range called Humanrace in 2020]."
He continued, "Once you understand that you have to be curious about how your skin behaves or conducts itself, that's when you realize there's a routine for you. Then be committed; that's when you have success. The second part was just through experimentation – trying everything out, from over-the-counter to prescription."
Even if there's an explanation for it, fans simply won't accept that Pharrell is 50: "HBD to my brother @Pharrell… I've been around for almost half of the 50, and I gotta say, you're just getting started," Justin Timberlake tweeted.
It appears that Pharrell rang in the milestone with the likes of Nigo, Pusha T, and Steven Victor. Fans will have the opportunity to celebrate belatedly at Something In The Water Festival later this month.
Pharrell is 50 bruh wow https://t.co/o2OrIkFVle

— #KloppOut (@Shadyy_) April 5, 2023
pharrell is 50 (yes we know he does not look it) – wrote about some of his and chad hugo's most impt moments to celebrate https://t.co/EGkAfu7Guc

— Natalie Weiner (@natalieweiner) April 5, 2023
Pharrell being 50 years old just blew my mind

— Morgan A. (@uWANTmoe) April 5, 2023
I would've never guessed Pharrell Williams would be turning 50 today. You never age when you make music that well.

— BLACK JONAH HILL (@sirjonlee) April 5, 2023
No way Pharrell 50 yrs old looking like that 😳

— Yami Snacks (@Yamiyumyumz) April 5, 2023
Pharrell is FIFTY?!?! This isn't a looks young thing I just genuinely did not realize the number was getting that high wow. Still moves like he's idk 38 or 42 tops lmao what a guy

— Frazier Tharpe II (@The_SummerMan) April 5, 2023
50 years old? I'm convinced Pharrell is immortal pic.twitter.com/Vx3cpNHPPr

— Firemane 🔺♟ (@AJ901) April 5, 2023